The Artificial Intelligence (AI) market is expected to continue growing in the coming years as demand from individuals and corporations rises. The most recent intelligence report on the industry showed that the market size stood at $207 billion in 2023 and that it will soar to almost $2 trillion by 2030.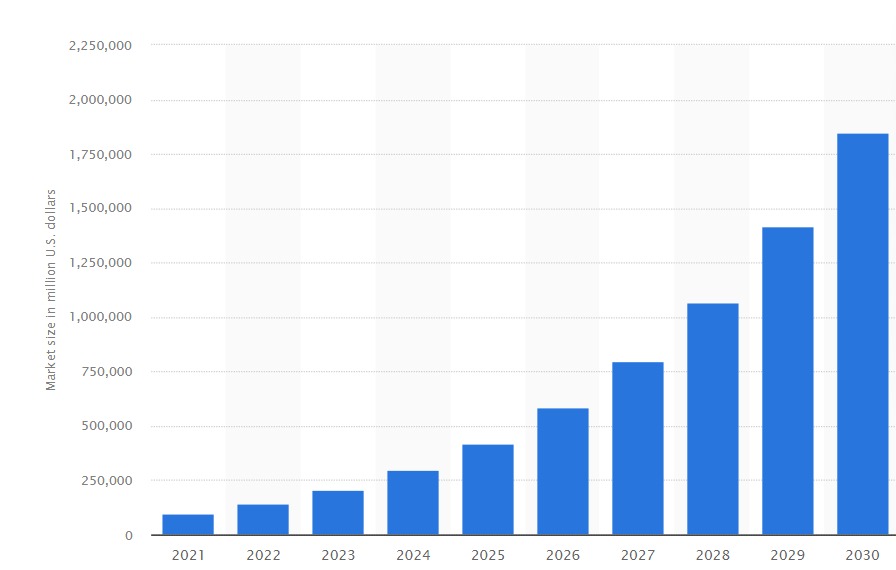 AI market to grow
The AI industry will continue growing as demand rises internationally. Analysts believe that AI models will disrupt all industries. For example, Hollywood actors and writers have gone on strike to protest the use of AI models in their work.
Many news organizations are now implementing AI in their operations. Besides, a well-trained AI model can now do a better job than most individuals. Most importantly, AI models will likely replace many financial analysts. Some quant hedge funds have found a lot of success using these models.
As a result, many companies are now investing heavily in AI. Microsoft spent over $10 billion investing in ChatGPT while Google has launched a similar platform. Apple has also built its own ChatGPT rival and is testing it internally. 
Further, Elon Musk has launched xAI, a company that will build AI tools. And Nvidia, the biggest semiconductor company in the world, is building technologies that will power the AI industry.
It is unclear how the AI industry will affect the world in the future. While some analysts see it leading to job losses, others believe that it will create jobs in the long run.
AltSignals token sale continues
Meanwhile, investors from around the world are still investing in AltSignals. The token sale has now raised over $1.19 million in its second stage. This means that the developers have sold over 53% of their $2.25 million target. Each ASI token is going for 0.01875 USDT and the price will rise by 12.05% in the next stage.
AltSignals is a financial services company that is seeking to incorporate artificial intelligence in its processes. The existing product, which is highly accurate and has thousands of customers, will be upgraded with a more advanced AI one.
According to AltSignals white paper, the developers will use several advanced technologies like natural language processing (NLP) and machine learning to come up with predictions. The ecosystem will be powered by the ASI token. 
For example, customers with more ASI tokens will receive more features like ActualizeAI, AltScalpPro, and discounts on all AI products. In the future, they will also be able to vote on key details in the ecosystem. You can buy the AltSignals token here.
Is it safe to buy ASI?
There are three main reasons why AltSignals will be the next big thing in the crypto industry. First, unlike meme coins that don't have a utility, ASI has a real use in that it powers the AltSignals ecosystem. 
Second, AltSignals is in industries that are growing fast: finance and AI. This year, we have seen many AI coins like SingularityNET and Fetch AI jump by more than 500%. Finally, AltSignals is a genuine company with thousands of customers and positive Trustpilot reviews.
Still, you should be cautious when investing in AltSignals and other token presales. One way to mitigate risks is to ensure that you are investing a small portion of your funds in it.
Leave a comment