Pepe crypto price has almost doubled in the past few days.

This rally is in line with that of other cryptocurrency market.

The bullish trend could be part of a bull trap.
Pepe price has jumped sharply in the past few days, making it one of the best-performing cryptocurrencies in the market. It soared to a high of $0.0000016, the highest point since May this year. In all, the meme coin has jumped by more than 85% from the lowest level this month.
Why Pepe price is soaring
Pepe price has jumped because of the rising greed in the crypto market. The crypto fear and greed index has jumped to the greed area of 60 as most cryptocurrencies have jumped. Bitcoin has crossed the important resistance point at $30,000 while a sea of green has dominated the market.
The strong performance is mostly because of the ongoing TradFi trends in the industry. For example, on Thursday, it was reported that Credit Agricole had acquired a crypto custody license in France. This is notable since this is the third biggest bank in Europe by assets.
The announcement came a few days after Deutsche Bank applied for custody services in Germany. Also, companies like Blackrock, WisdomTree, and Invesco have applied for their spot Bitcoin ETFs with the SEC.
These events have nothing to do with altcoins like Pepe. Instead, they have helped to ameliorate the recent regulatory challenges in the United States. As you recall, the SEC filed major charges against Coinbase and Binance, the biggest firms in the industry.
This could be a bull trap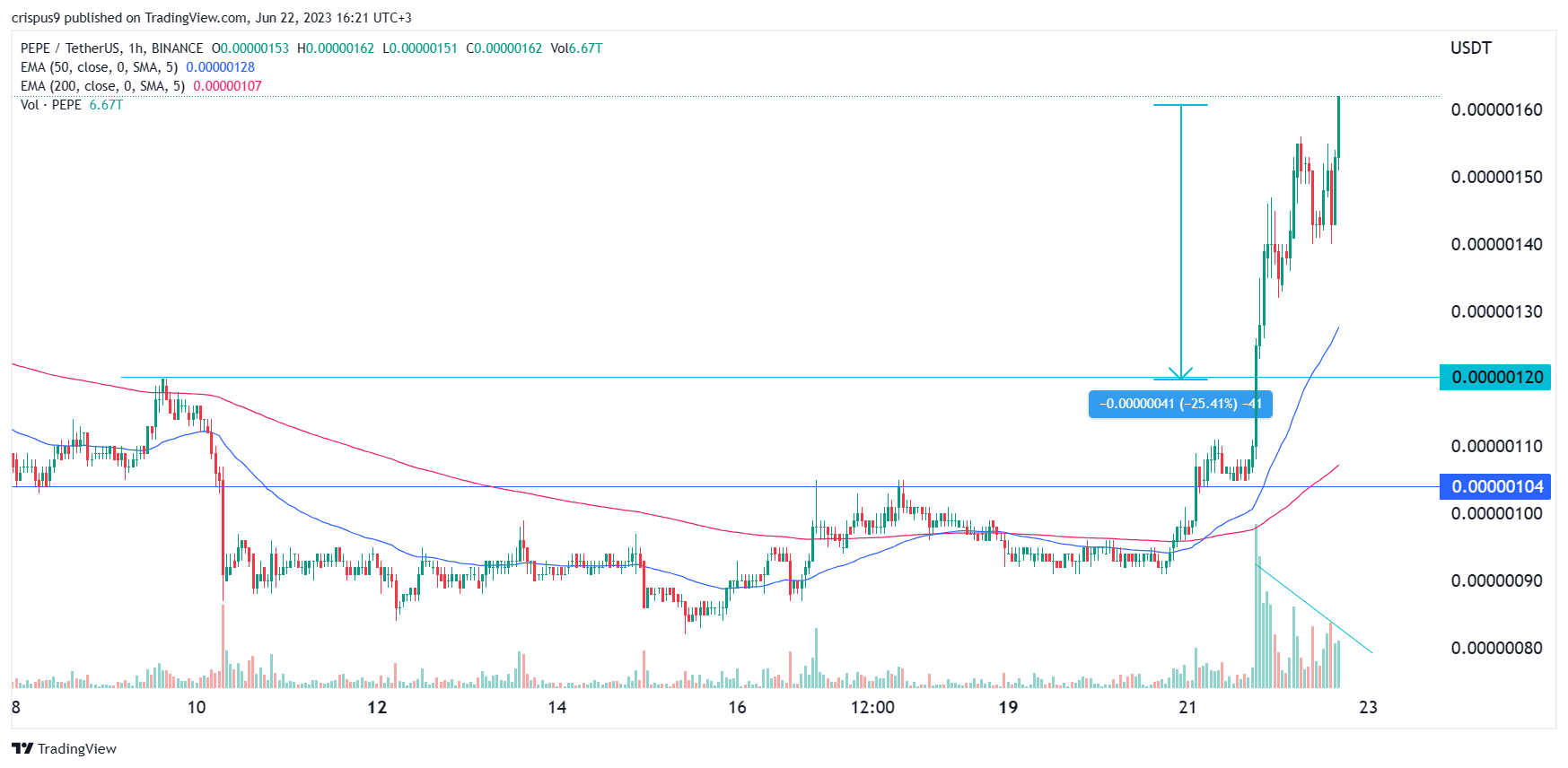 Pepe price has also jumped because of the Fear of Missing Out, popularly known as FOMO. In most periods, this FOMO tends to be a bull trap that leads to substantial losses to the holders. Just ask investors who bought GameStop, ContextLogic, and Bed Bath and Beyond shares. Most of them have lost substantial sums of money.
Therefore, I suspect that Pepe price will retreat soon as investors start taking profits. As you can see in the chart above, the volume has started to diverge from the price. After peaking on Wednesday, the volume has continued falling. 
If this view is correct, Pepe will likely drop to the key support at $0.00000012, the highest point on June 9th of this year. This price is about 25% below the current level.
How to buy Pepe
Leave a comment