BNB, Cardano and Polygon were looking to break key resistance areas as crypto prices rose late Wednesday.

Stocks jumped as all the major US indices ended the day higher while Bitcoin bounced above $27,400 again.
Other coins to see gains include XRP, Dogecoin and Litecoin.
The cryptocurrency market remains largely flat today after a slow week for the broader market amid investor cautiousness on US debt-ceiling sentiment. On Wednesday, US stocks closed higher as reports emerged of positive progress from lawmakers, with the Dow ending over 400 points up and the S&P 500 and Nasdaq both notching +1.2%.
In crypto, Bitcoin (BTC) was changing hands just above $27,000, Ethereum (ETH) was at $1,824, and XRP (XRP), one of the best performers today among the top 10 cryptocurrencies, traded near 45 cents. 
Binance Coin (BNB), Cardano (ADA) and Polygon (MATIC) were among altcoins to see a slight uptick, while XRP, Litecoin and Dogecoin have also climbed.
Here is a short term price prediction for BNB, ADA and MATIC.
BNB (BNB) price
BNB is trading at $314, about 1% in the green at the time of writing after bulls turned up to defend the $310 area.
However, the 20-day EMA ($317) and 50-day EMA (319) are offering a major resistance zone. With the averages suggesting further weakness, bears are likely to try to pull the price below the strong support at $300. If they succeed, the BNB/USD pair could extend the decline to $270.
On the other hand, if the price bounces off support and BNB sees fresh demand, a rise to the highlighted EMAs could afford buyers breathing space to target the hurdles in the $330 – $350 range.
Cardano (ADA) price
Cardano was above $0.37 at the time of writing. While ADA/USD is up 3% in the past 24 hours and has broken above a key horizontal line, the bulls are not in the clear yet.  To pull the price higher, buyers need to break past $0.40 in order to target the recent uptrend peak of $0.46.
If bears succeed in retaking control, the ADA/USD pair could decline to $0.30.
Polygon (MATIC) price
Polygon is currently trading at $0.87, up by about 5% in the past 24 hours. 
The bulls are likely to try to push the price above the resistance line at $0.91. If they succeed, the MATIC/USD pair target the psychological $1.00 area, with potential to retest the supply wall near $1.20.
On the flipside, if the price turns down and break below the new range support, further weakness could offer bears the encouragement to target $0.70.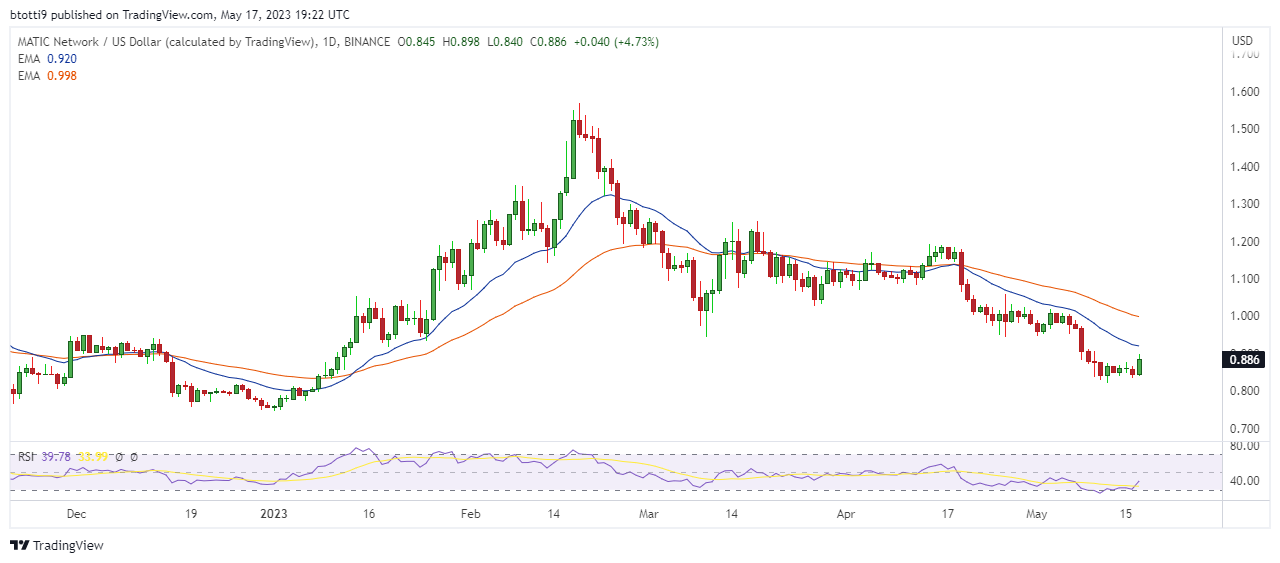 Polygon (MATIC) price daily chart. Source: TradingView
Leave a comment