Cryptocurrencies remained under pressure this week after the SEC went to war with the industry.

The SEC sued Binance and Coinbase, the biggest exchanges in the industry.

We explain what to expect with Render Token, Polkadot, and Solana.
Cryptocurrencies had a difficult week after the Securities and Exchange Commission (SEC) went to war with the biggest companies in the industry. On Monday, the agency filed charges against Binance and its CEO, Changpeng Zhao. Then on the following day, the agency sued Coinbase for offering stacking products. While many coins have rebounded in the past few days, there are regulatory concerns in the industry. This article will look at some of the most popular coins and what to expect. They include: Render Token, Solana, and Polkadot.
Render Token price prediction
Render Network is a blockchain platform that provides decentralized GPU services. RNDR, its token, has jumped sharply as investors compare it to Nvidia, a company that is now valued at over $1 trillion. The token has surged by more than 400% this year. 
There are signs that the spectacular rally is fading. On the 4H chart, we see that the token has slipped by over 20% from its highest level this month. This is a signal that it has moved to a bear market. The token has also moved below the 25-day and 50-day exponential moving averages (EMA) and the two are about to form a bearish crossover.
Most importantly, it seems like Render has formed a double-top pattern. Therefore, the token will likely continue falling as sellers target the neckline of this pattern at $1.63.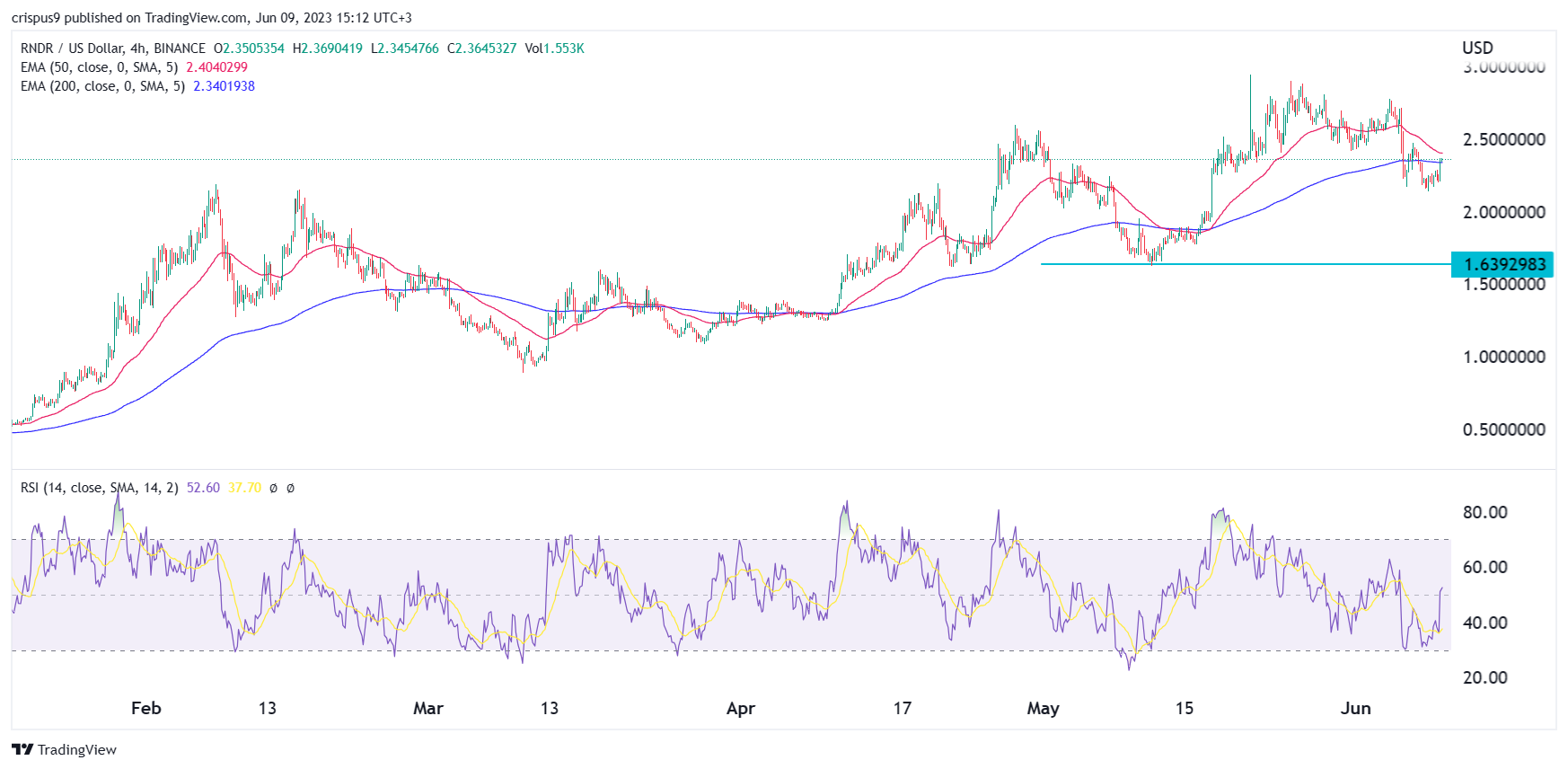 Polkadot price prediction
Polkadot is a leading blockchain that was established by a co-founder of Ethereum. It is best known for its parachains like Moonbeam, Acala, and Efinity. On the four-hour chart, the coin has been in a downward trend. And most recently, it managed to drop below the key support level at $5.15,  the lowest level in May 25 and on May 12. 
Polkadot has moved below the 25-day and 50-day exponential moving averages (EMA). The MACD has moved below the neutral point at zero. Therefore, the coin will likely continue falling as sellers target the next support level at $4.50.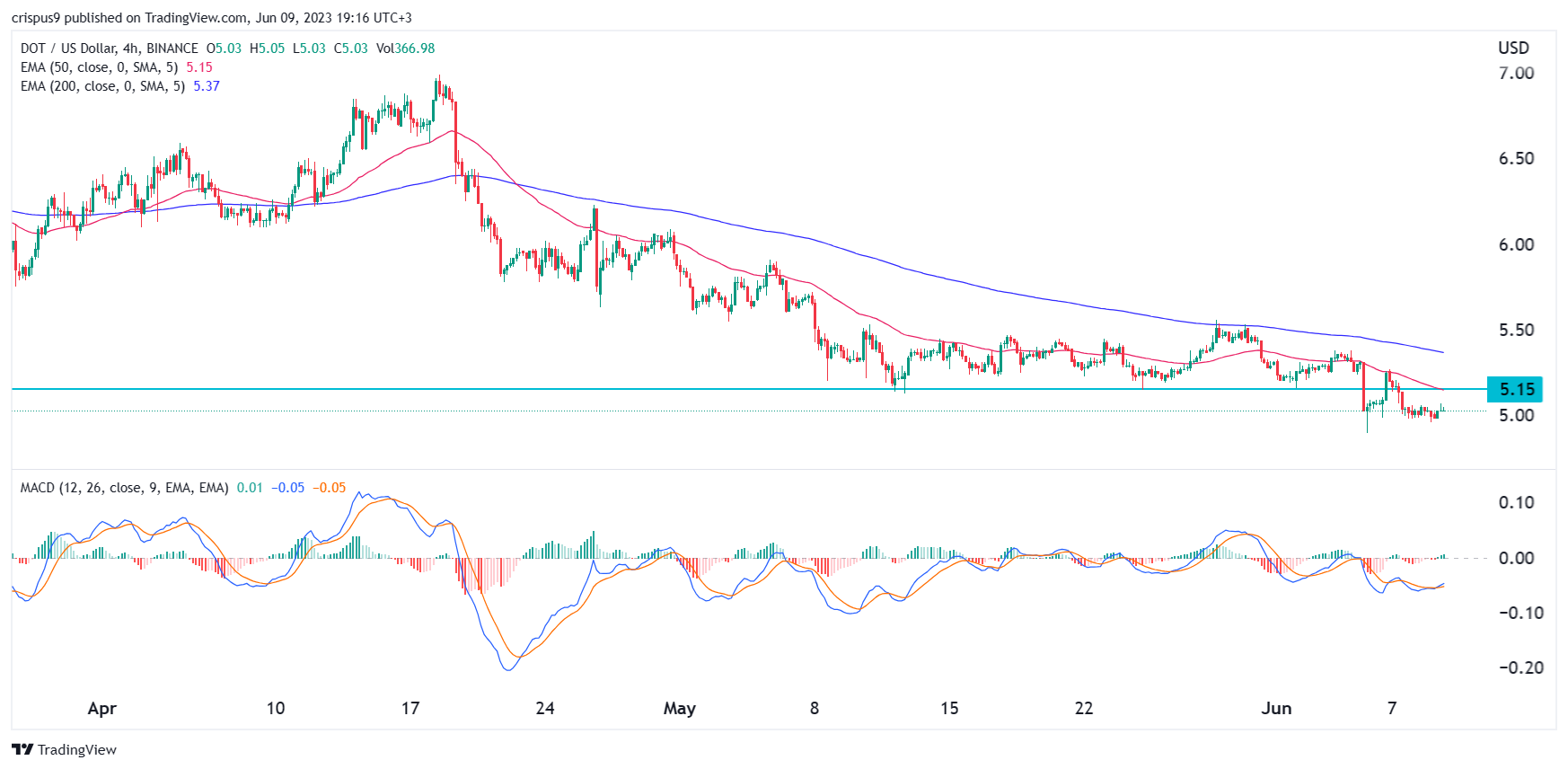 How to buy Polkadot
eToro
Plus500
Solana price prediction
Solana, like other altcoins, has been in a downward trend in the past few months. In this period, it has dropped by almost 30% from the highest point this year. The coin has dropped below the 25-day and 50-day moving averages while the MACD has dropped below the neutral level. 
The coin has formed a break-and-retest pattern by retesting the key resistance point at $19.37. Therefore, Solana will likely continue falling since this pattern is usually a bearish sign. If this happens, the next level to watch will be at $15.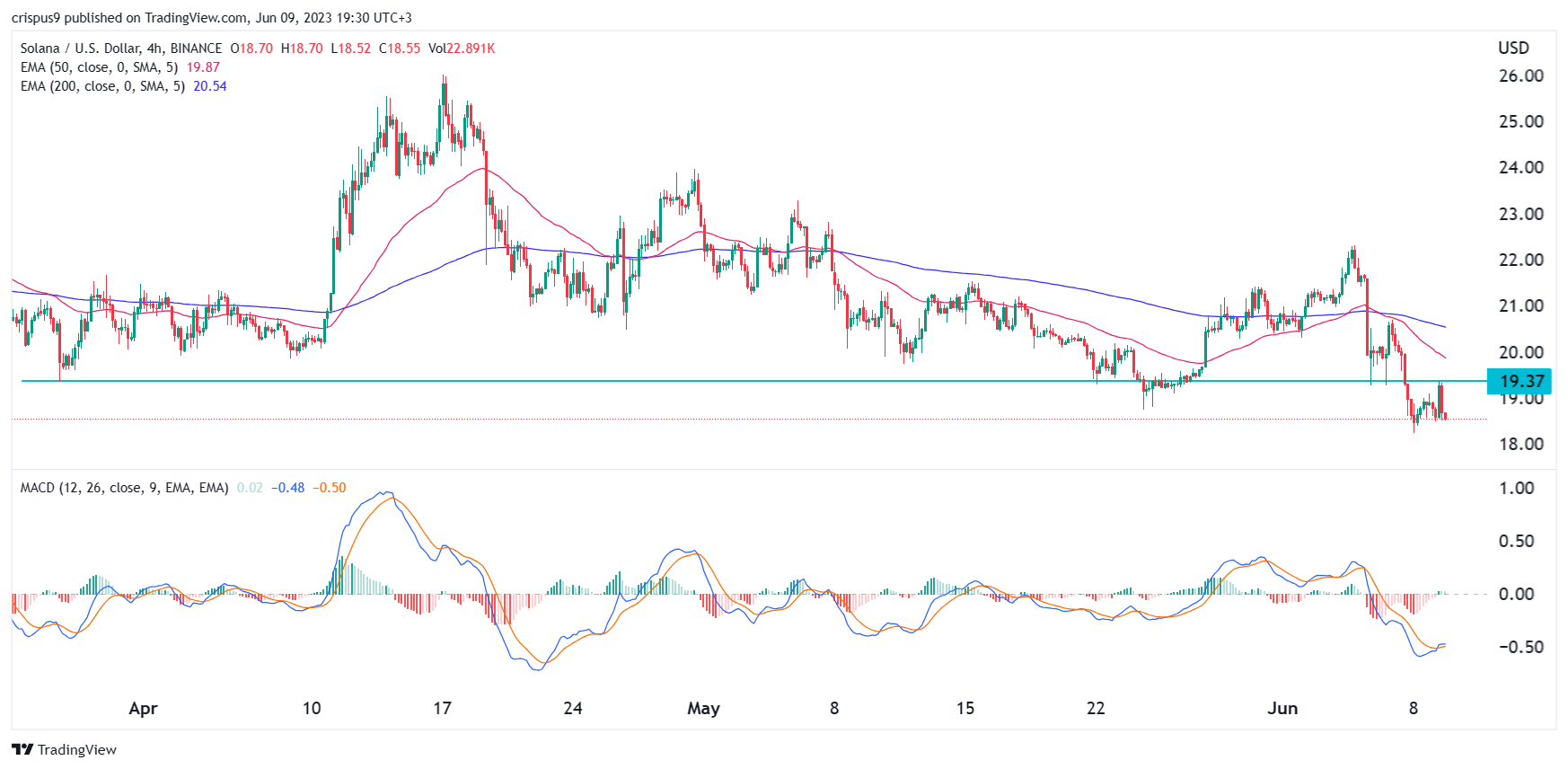 How to buy Solana
eToro
Plus500
Leave a comment