Ethereum (ETH) price nosedived suddenly as more investors liquidated their positions. The coin pulled back to a low of $1,976, the lowest level since Monday this week. It has dropped by more than 8% from the highest point this week.
ETH bullish liquidations rise
Ethereum joined other cryptocurrencies in a major sell-off on Monday. Bitcoin moved below $30,000 for the second time this week. In the same period, popular coins like Arbitrum, Space ID, Kaspa, and Verasity also pulled back. 
It is not clear why Ethereum and other cryptocurrencies crashed on Wednesday. A likely reason is that the number of bullish liquidations jumped to the highest level in months. According to CoinGlass, the amount of bullish liquidations jumped to over $41.1 million. In contrast, shorts liquidations were over $1.2 million
These numbers were significantly higher than on Wednesday when bulls liquidations were just $9.6 million. Shorts liquidations were $16 million.

In most periods, cryptocurrencies jump when short-sellers start liquidating their coins and vice versa. For example, Ethereum price soared on April 14 when shorts liquidations jumped to more than $62.8 million.
Ethereum's decline also coincided with outflows from several centralized exchanges. Binance has had over $18 million of outflows in the past 24 hours. Similarly, Bitfinex, Huobi, and Bybit lost over $20 million each.
Meanwhile, Ethereum price also reacted to the latest questioning of Gary Gensler on Tuesday. In congressional testimony, he repeatedly refused to answer whether he believes that Ethereum is now a financial security.
In a previous interview, Gensler said that he believes that Ethereum and other proof-of-stake coins are securities. His main concern is the opaqueness of staking, which he believes should be regulated to protect customers. On Monday, the SEC identified five coins, including Algorand, that it believes are securities.
Ethereum price prediction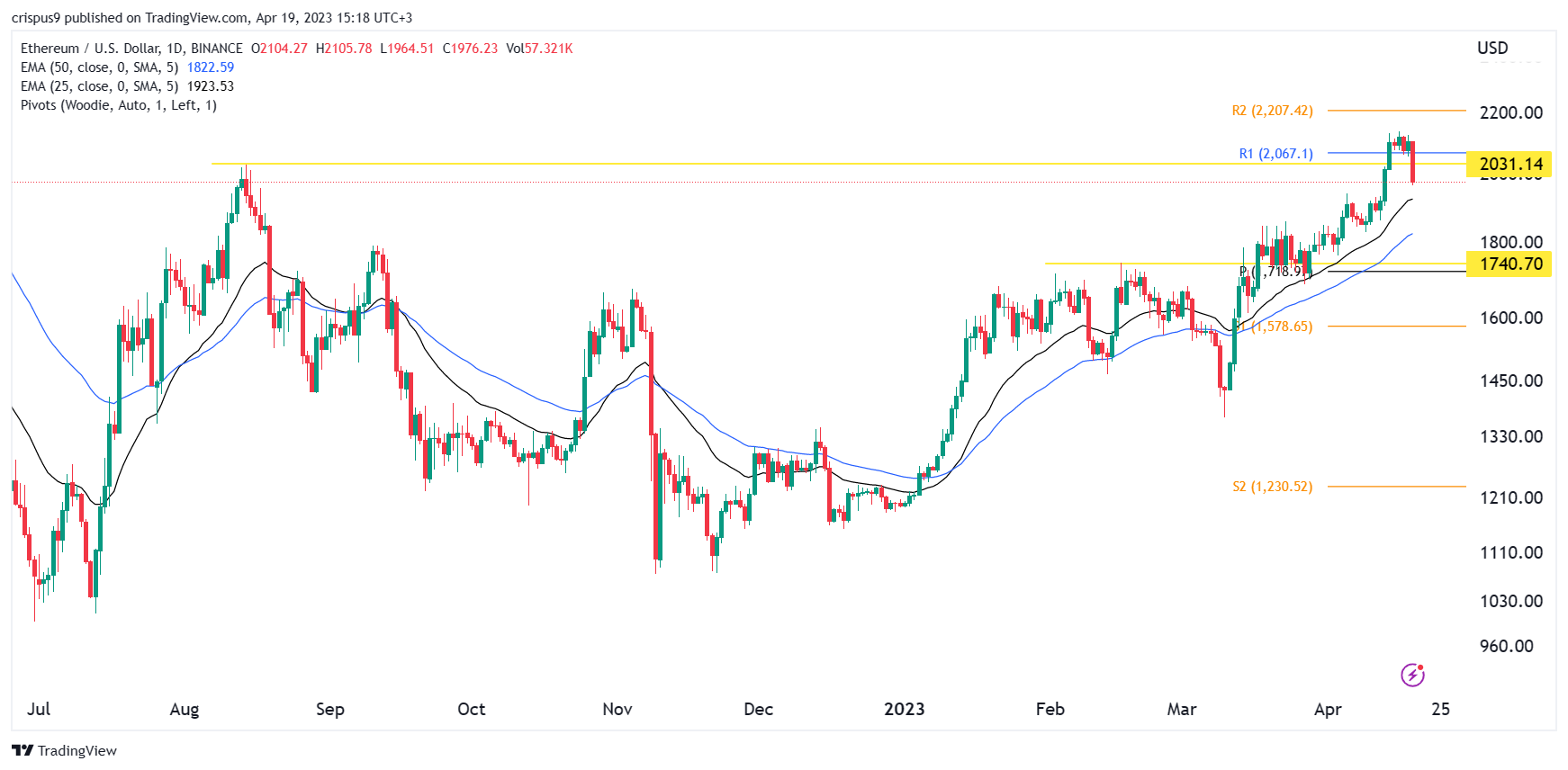 The daily chart shows that the ETH price has been bullish in the past few months. It jumped to a high of $2,120, the highest point in months. A closer look shows that it formed a dark cloud cover pattern, which explains why it has dropped sharply. It also dropped below the first resistance of the Woodie pivot point.
Ethereum remains above the 50-day and 25-day moving averages. Therefore, there is a likelihood that the coin will have a bullish breakout in the coming weeks a buyers target the second resistance at $2,200.
How to buy Ethereum
Public
Public is an investing platform that allows you to invest stocks, ETFs, crypto, and alternative assets like fine art and collectibles—all in one place.
Binance.US
Binance.US provides secure and reliable access to the world's most popular cryptocurrencies, with some of the lowest fees in the industry.
Leave a comment