Ethereum regained the $2,000 level
The market has rallied in 2023 after bouncing from support seen in the $1,200 area
Despite breaking the lower highs series, a pullback might be in the cards
The bullish momentum in the cryptocurrency market that started in 2023 continued in the second quarter of the year. Ethereum is one of the main beneficiaries, as it recovered the $2,000 level. 
Ethereum's price almost doubled from the 2022 lows. Then, back in the last days of 2022, Ethereum traded at $1,200, a level that proved to offer strong support. No one hoped for such a rapid rise, but in trading, especially in crypto trading, things can turn around quickly. 
Now that Ethereum trades above the $2,000 level, the big question is – what happens next? The close above $2,000 is significant from a bullish momentum perspective. However, if not sustained by further gains, we might see a pullback in the short to medium term.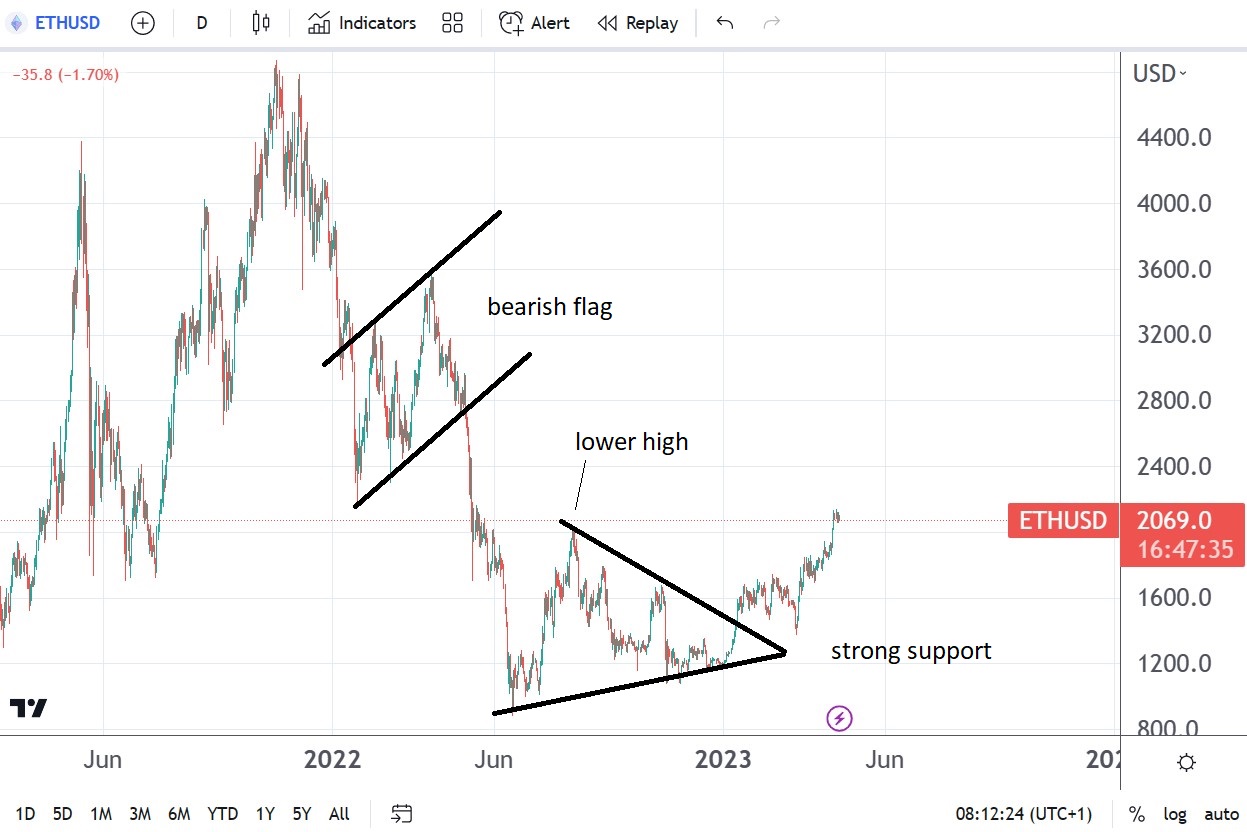 Why did cryptocurrencies rally? 
It has to do with the weaker US dollar performance over the same period. Sure enough, the dollar topped a bit earlier, in October of last year, whereas the cryptocurrencies continued declining and bottomed a couple of months later. 
But they did catch up with the dollar's move. As a comparison, back in October 2022, the EUR/USD traded well below parity, around 0.96. However, it closed the year way higher, around 1.06. 
In the meantime, the EUR/USD rally faded, but it was the cryptocurrency market's turn to rally. Therefore, one might say that the two are connected, and the key to the rally was the weak US dollar. 
Yesterday, Fed's Bullard said that it favors more rate hikes. If that is the case, the dollar might strengthen in the short and medium term, meaning a lower EUR/USD. Following the same logic as above, cryptocurrencies might give up some of their 2023 gains. 
Therefore, Ethereum may give up the $2,000 level. If that is the case, buyers are expected in the $1,600 area. 
Leave a comment