THORChain (RUNE) token price has gained 65% over the past week and 53% over the past month.
There has been a significant surge in social volume around THORChain.
The social volume is driving notable attention toward the cross-chain liquidity protocol.
Although the price of THORChain (RUNE) is still down 10% from its start of the year price, the token has been on a strong bullish trend since the beginning of August. It has risen by 68% since August 1, pushing the price from around $0.92 to the current price of $1.55.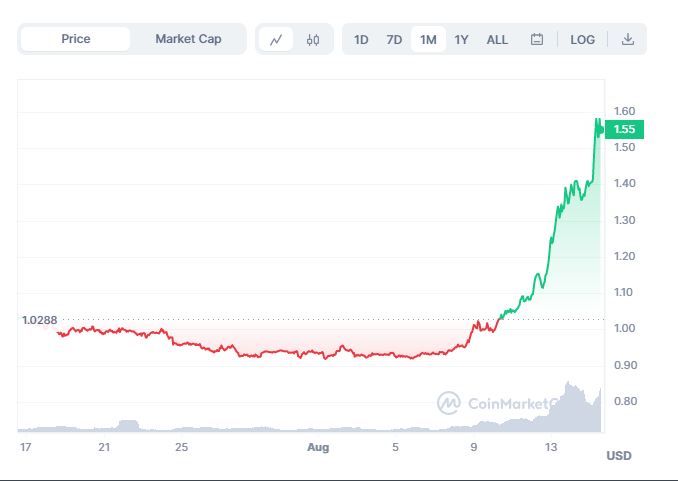 While some are super excited with RUNE's upward trajectory, some are sceptical that the token could experience a pullback seeing that the rise has been so sharp. To fully understand how far the token could rise and the possibilities of a pullback, we shall delve into the factors pushing the price up.
Why THORChian (RUNE) price is rising
According to data on Santiment, the THORChain price surge is fueled by a surge in social volume. According to the data, RUNE's social volume increased by 4,300% between August 7 and August 13, driving significant attention toward the THORChian protocol and its native token.
In addition, THORChain's positive investor sentiment also grew 6,100% within the same timeline. This further caused RUNE's trading volume to spike as more investors jumped in.
THORCHian, which is a cross-chain liquidity protocol, in April, partnered with the web3 company Unizen to allow users to swap their Ethereum (ETH) and Avalanche (AVAX) for Bitcoin (BTC) while also permitting users to store assets on different chains. This has been a great driver of the increased activity in the THORChain ecosystem.
Leave a comment