Litecoin price has underperformed the market as the hype surrounding the halving event waned. LTC price dropped to a low of $80, the lowest level since June 21st. It has dropped by more than 28% from the highest point this year. 
Litecoin's price action is a reflection of the overall performance of the crypto industry. Bitcoin, its biggest peer, has remained at the $29,000 level in the past few weeks. Similarly, the total market cap of all cryptocurrencies has remained at $1.12 trillion.
Litecoin price has ignored several important events in the ecosystem. Last week, it went through halving, a process that reduces the block rewards to miners in its ecosystem. Historically, Litecoin and other cryptocurrencies tend to show some volatility before and after a halving event.
Further, it reacted mildly to last week's credit rating downgrade of America's debt by Fitch, one of the big three credit rating agencies. In an ideal situation, the credit rating downgrade should have been a good for Bitcoin and other cryptocurrencies because they are designed to be anti-US dollar.
Meanwhile, on-chain metrics shows that the number of Litecoin transactions has been a bit muted in the past few months. On a positive side, the hash rate has remained at an all-time high of 800 TH/s. 
Hash rate is an important metric that looks at the computational power of a network. In most cases, a strong hash rate means that the network is healthier.
Litecoin price prediction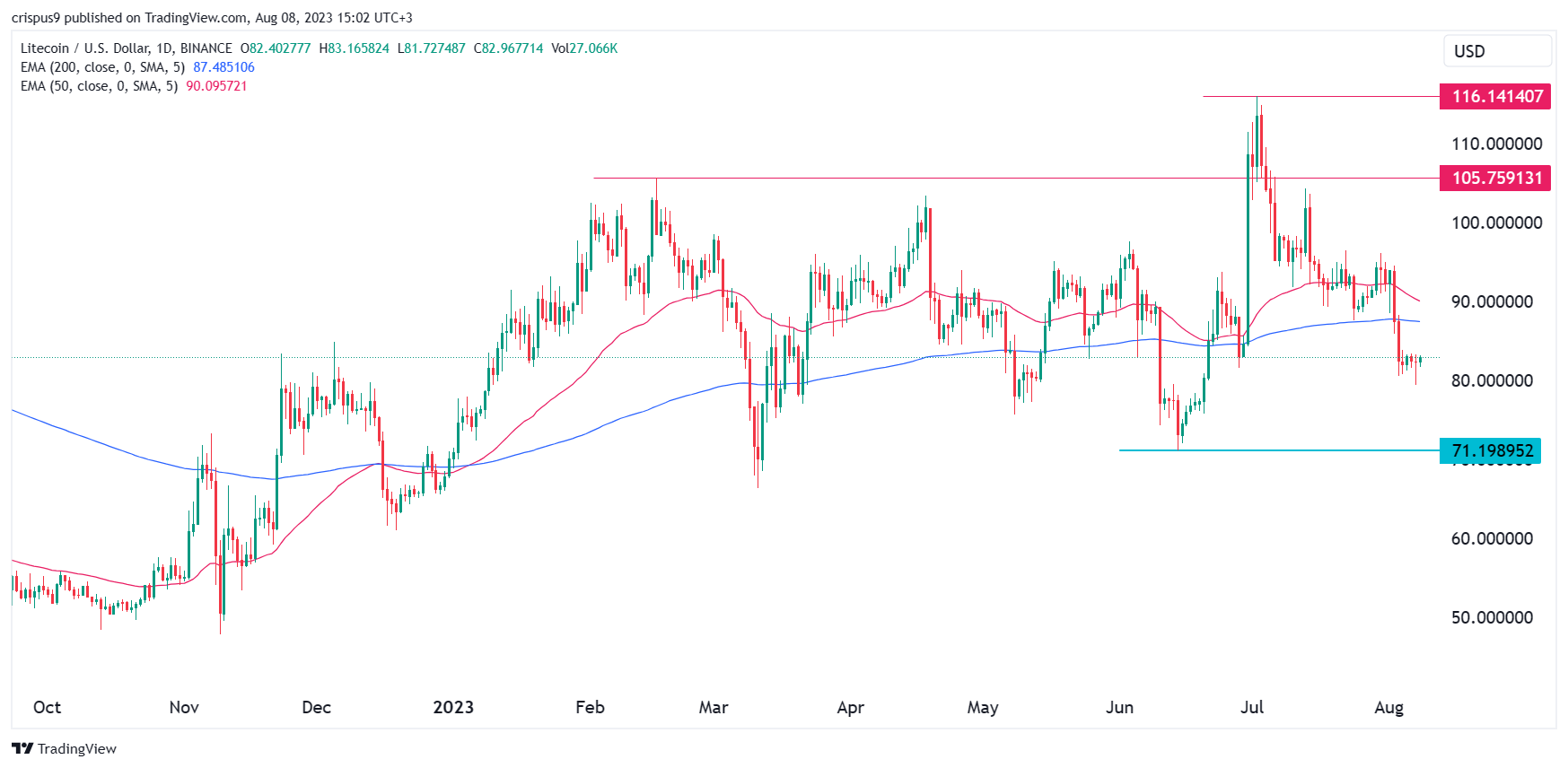 The future price action of Litecoin price will depend on the performance of Bitcoin since the two have a close correlation. On the daily chart, the LTC price has dropped below the important resistance level at $105.75, the highest point in February. 
Most importantly, Litecoin has formed what looks like a head and shoulders pattern, which is usually a bearish sign. It has also dropped below the 50-day and 200-day moving averages. The two averages are about to make a bearish crossover, which is known as a death cross.
The coin has also formed a bearish flag pattern. Therefore, the outlook for Litecoin price is bearish, with the next level to watch being at $71.20.
How to buy Litecoin
eToro
eToro offers a wide range of cryptos, such as Bitcoin, XRP and others, alongside crypto/fiat and crypto/crypto pairs. eToro users can connect with, learn from, and copy or get copied by other users.
Public
Public is an investing platform that allows you to invest stocks, ETFs, crypto, and alternative assets like fine art and collectibles—all in one place.
Leave a comment