Litecoin price continued falling on Wednesday as focus shifted to the upcoming FOMC minutes. LTC plunged to a low of $78.78, the lowest level since June 20th. The coin has fallen by over 32% from its highest level in July. Other coins like Bitcoin, Ethereum, and XRP have also retreated.
FOMC minutes ahead
Litecoin has lost momentum in the past few weeks as the hype of the recent halving event faded. In most periods, cryptocurrencies tend to do well ahead of a major event and plunge shortly thereafter. This is known as buying the rumour, selling the news.
The next key catalyst that will move the LTC price will be the upcoming FOMC minutes. These minutes will show the deliberations that happened in the last meeting. In it, the bank decided to hike interest rates by 0.25%.
In the past, Fed minutes have moved key financial assets like cryptocurrencies and stocks. However, there is a likelihood that LTC and other cryptocurrencies will react mildly to the minutes.
Besides, they have failed to react positively to important events recently. For example, Litecoin and Bitcoin remained in a consolidation mode after last week's US inflation data. The numbers showed that US inflation, except housing, is falling at a quicker rate than expected. 
Therefore, there is a likelihood that the Fed will pause hiking rates. Some analysts believe that the bank will even start cutting rates in the first quarter of 2024 since risks are rising. 
Bitcoin and Litecoin also ignored important news on China. The country has published weak economic numbers recently. For example, its imports and exports have slipped while retail sales and industrial production rose at a slower pace than expected.
Litecoin price forecast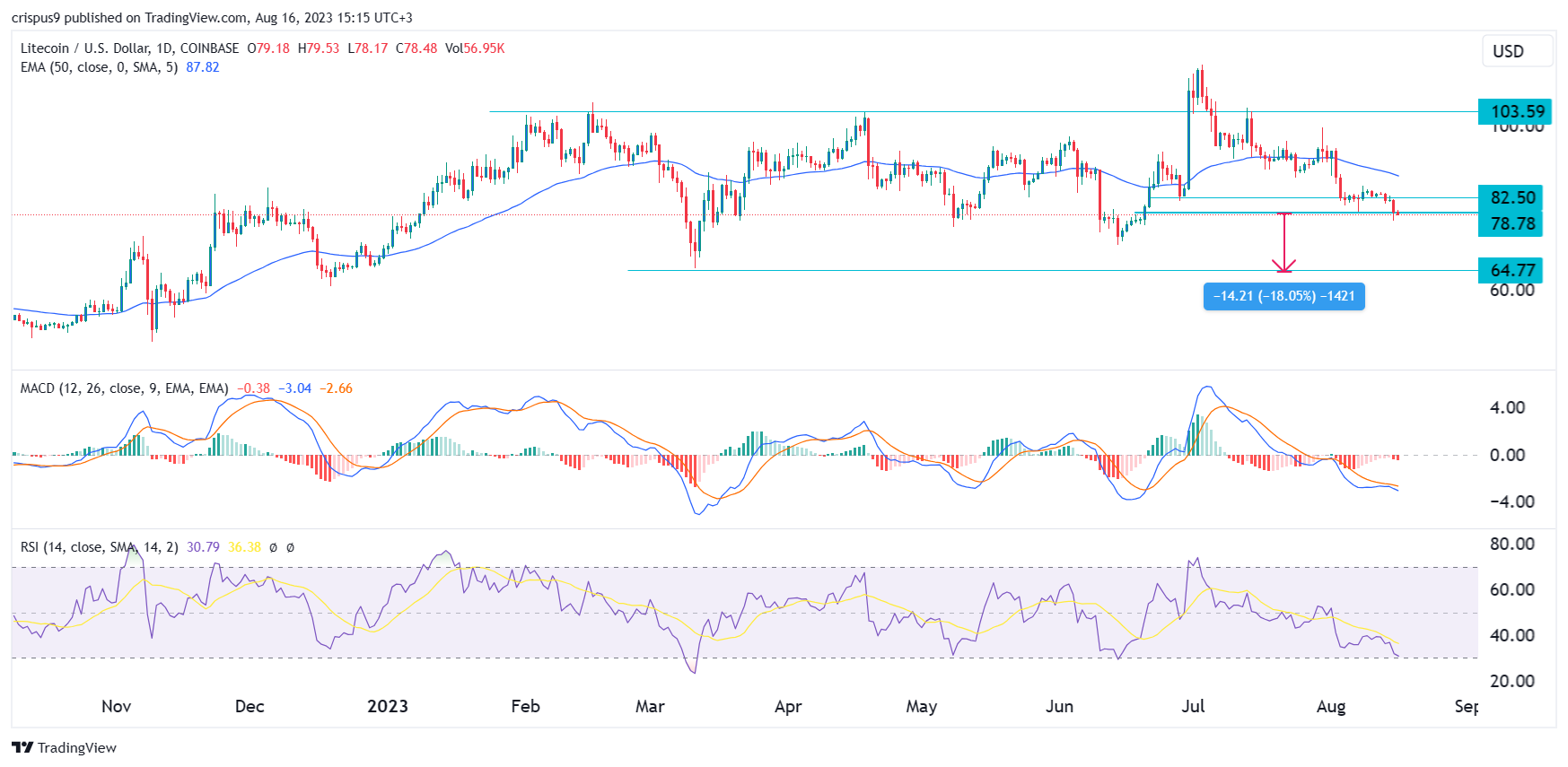 The daily chart shows that LTC price has been in a downward trend after peaking at $114 in July. It has already dropped below the 50-day moving average and the crucial support at $82.50, the lowest point on June 28th. 
The two lines of the MACD indicator have moved to almost minus 3 while the Relative Strength Index (RSI) has moved to the oversold level. It also remains below the important resistance at $103.60, the highest point in February and March.
Therefore, Litecoin has more downside going forward, with the next level to watch being $64.77, the lowest swing on March 11th. This price is ~18% below the current level.
How to buy Litecoin
Skilling EU
Skilling is a regulated Forex and CFD broker that allows traders to access 800+ financial instruments, including 10 popular cryptocurrency CFDs with competitive pricing and fast execution time. Skilling offers a selection of trading platforms, including the proprietary Skilling Trader and popular, industry renown cTrader and MetaTrader 4 platforms, which can suit the needs of customers with different levels of trading experience.
eToro
eToro is a multi-asset investment platform with more than 2000 assets, including stocks, ETF's, indices, commodities and Cryptoassets. eToro offers over 60+ Cryptoassets to invest or invest in their CryptoPortfolio where investors can benefit from the accumulated growth of Bitcoin, Ethereum, XRP, Litecoin and other leading cryptocurrencies. eToro users can connect with, learn from, and copy or get copied by other users.
Leave a comment