Marathon Digital, a leading mining company, published strong results.

The company mined more bitcoins in Q1 than in the same quarter in 2022.

Marathon's technicals on the daily chart are bullish.
Marathon Digital (NASDAQ: MARA) stock price moved sideways after the company published encouraging results. The shares were trading at $10.22, where they have been in the past few days. They have jumped by more than 277% from the lowest level in December.
Marathon Digital earnings
Marathon Digital, one of the best-known Bitcoin mining companies, published strong financial results, helped by higher bitcoin prices. Bitcoin jumped from a low of $15,500 in the quarter and ended the quarter at about $28,000.
Marathon's metrics were better than where they were in the same period last year. It produced 2,195 bitcoins in the quarter as the average BTC produced per day were 24.4. Its installed hash rate jumped to 15.4. 
As a result, Marathon Digital's revenue jumped to $51.1 million as the gains on the sale of bitcoin rose to $17.6 million. It boosted its cash balances by $12 million and reduced its overall debt by $50 million. It now has over $124 million in cash and 11,466 bitcoin. In a statement, the company's CEO said:
"With more hash rate coming online in the months ahead, Marathon remains on track to reach our 23 exahash goal near the middle of this year. We remain optimistic that we can achieve our primary growth targets."
MARA stock price forecast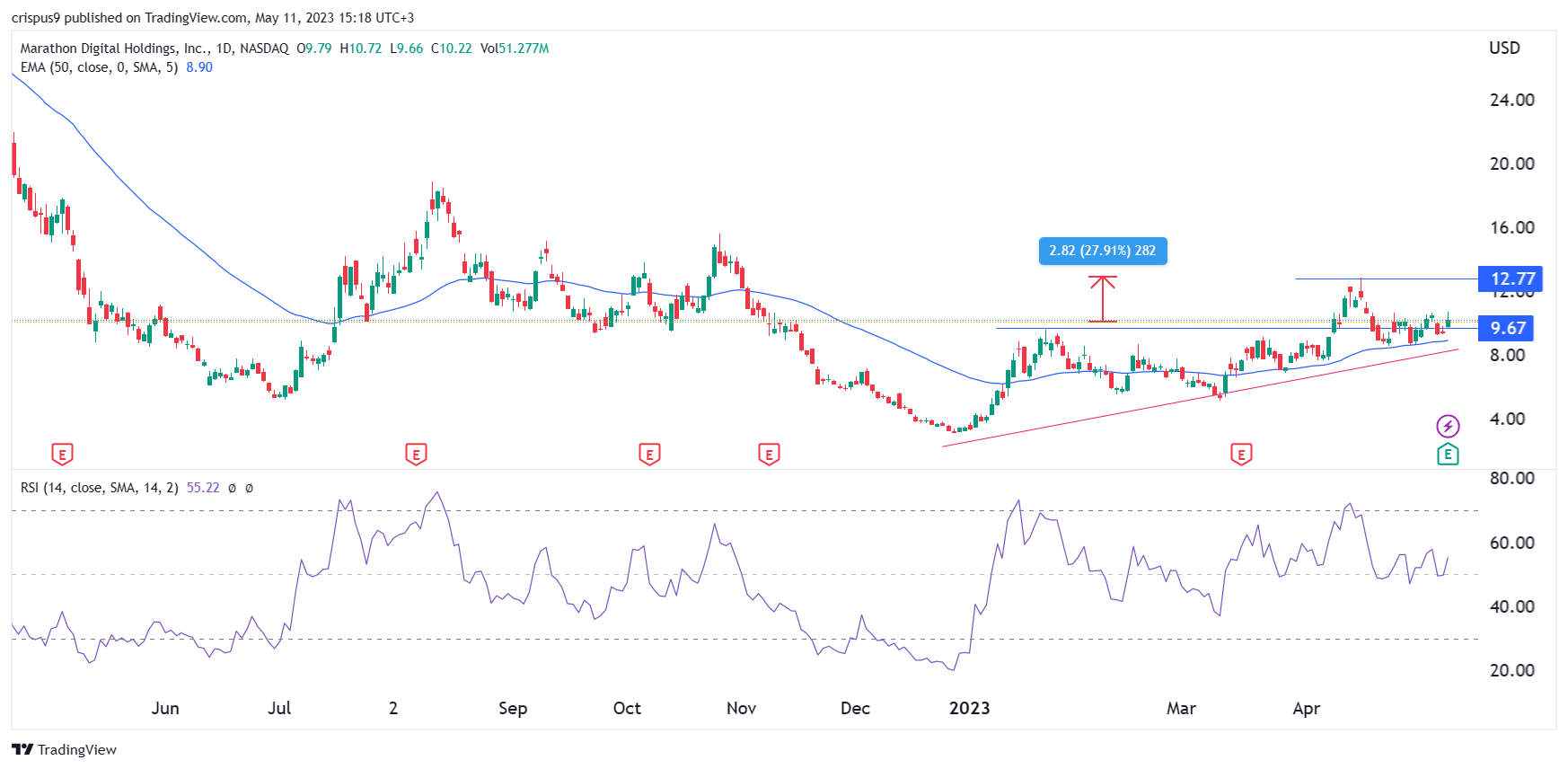 So, is Marathon stock a good buy? The future of the stock will depend on the Bitcoin price in the next few months. If Bitcoin continues to underperform, then I suspect that the share price will remain under pressure in the next few months.
It is hard to predict whether bitcoin price will rise or retreat. However, with the Nasdaq 100 index in a bull market, there is a likelihood that bitcoin will also bounce back soon.
The case for a higher bitcoin price is also made by the fact that America's inflation is easing, which means that the Fed will embrace a strategic pause. Further, Bitcoin tends to do well ahead of halving event. Halving will happen in April. As a result, analysts who talked to Bloomberg said that BTC could surge to as high as $100k in the next few years.
Technicals are also supportive of the MARA stock price. The shares are slightly above the ascending trendline shown in red and the 50-day exponential moving averages. Therefore, there is a possibility that the shares will jump to the next resistance point at $12.77, which is about 28% above the current level.
Leave a comment