Riot Blockchain stock price has done well this year as Bitcoin prices jump. The shares jumped to a high of $10.62 on Wednesday, the highest point since April last year. In all, the stock has jumped by more than 284% from the lowest point since November last year.
Bitcoin price boosts miners
The main catalyst for the strong Riot Blockchain comeback is the strong performance of Bitcoin and other cryptocurrencies. BTC has jumped by more than 80% in 2023, making it one of the best-performing major assets in the world.
Like other mining companies, Bitcoin miners do well when cryptocurrencies are rising. And now, analysts believe that crypto prices will continue rising in the coming months. Bullish bets that BTC will retest its all-time high have increased. 
The main reason for this optimism is the expectation that Fed will change its tune on interest rates. The bank has already hiked by 475 basis points in the past few months and analysts expect that it will hike by 0.25% in May. But the Fed will not hike forever, which explains why the US dollar index and bond yields have slipped.
Needham upgrades Riot Blockchain
The other reason why Riot stock price jumped is that analysts have turned bullish on the stock. On Wednesday, analysts at Needham upgraded the stock to $15, which is a 30% upside from the currrent level.  Their previous estimate was $9.The analysts cited the company's mining data and the fact that Bitcoin has jumped sharply this year.
Other analysts have a positive rating on the stock. In March, Cantor Fitzgerald reiterated their outlook for the stock to $10. B.Riley and MKM Partners are also bullish on the stock.
Therefore, a combination of higher Bitcoin prices, the potential for rate pause, and increased mine production could push the stock higher. In March, the company's mine production jumped by 36% on a year-on-year basis.
Riot Blockchain stock price forecast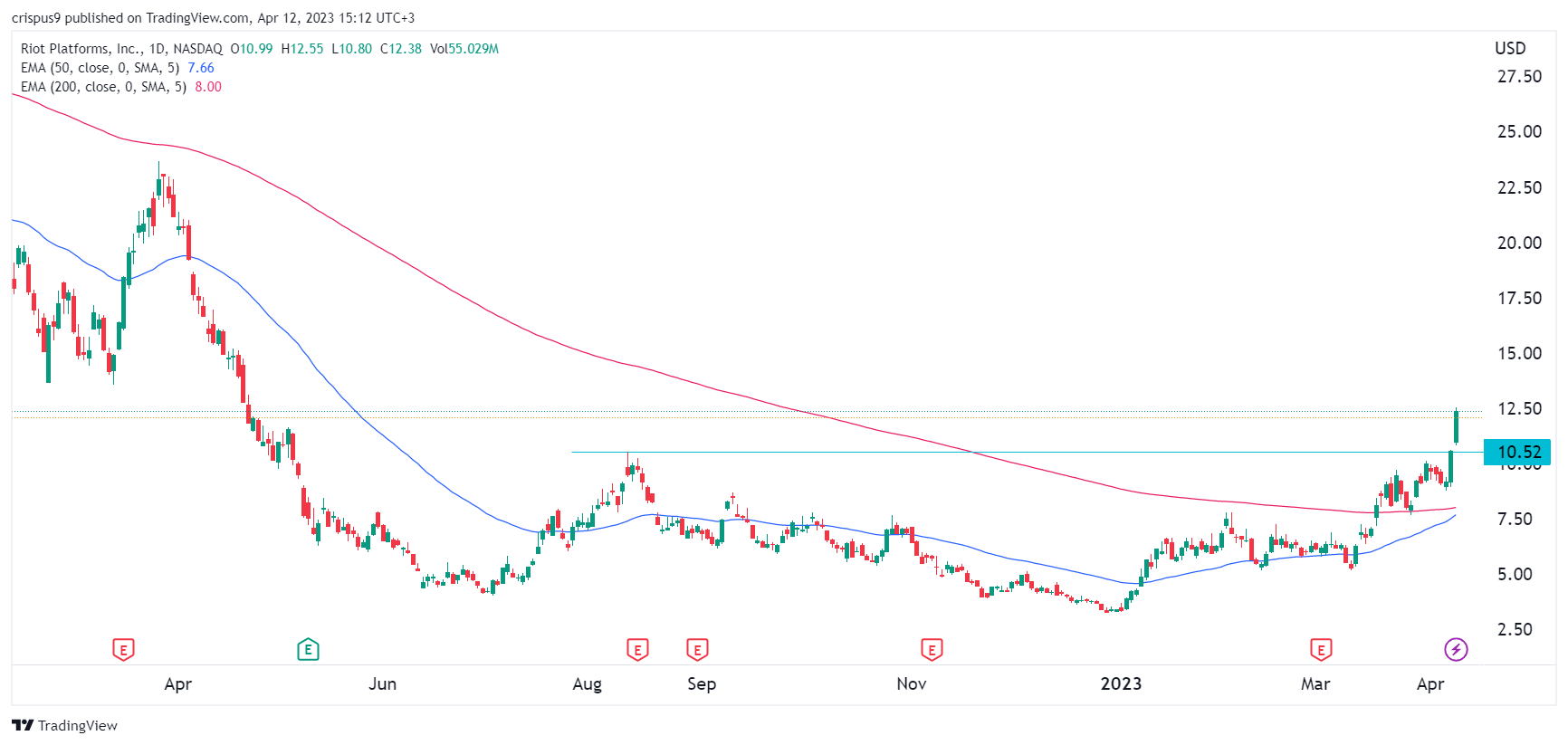 The daily chart shows that the RIOT stock price has done well in the past few days. It managed to move above the key resistance point at $10.52, the highest point on August 11. Most importantly, a golden cross is about to form as the 50-day and 200-day moving averages near their crossover. Therefore, the stock will likely continue rising as buyers target the next reference level at $15.
How to buy Bitcoin
Public
Public is an investing platform that allows you to invest stocks, ETFs, crypto, and alternative assets like fine art and collectibles—all in one place.
Binance.US
Binance.US provides secure and reliable access to the world's most popular cryptocurrencies, with some of the lowest fees in the industry.
Leave a comment