Riot Platform's share price has surged to the highest point since April 2022.

This rally is happening as Bitcoin remains at $30,000.
Riot Platforms stock price has made a bullish breakout even as Bitcoin remains in a deep consolidation phase. The stock has risen in the past three straight days and is now trading at the highest level since April last year. In all, the shares have jumped by more than 430% from the lowest level last year.
Mining stock is doing well
Riot Platforms, formerly known as Riot Blockchain, is one of the biggest Bitcoin mining companies in the world. Therefore, like other mining companies, the firm makes money when BTC is doing well.
Bitcoin has done well this year as its price jumped by more than 90% this year. Recently, however, demand for Bitcoin has eased while its price has remained above the important point at $30,000. Bitcoin liquidations have also dropped sharply in the past few days.
Therefore, the Riot Platforms stock price is rising for two main reasons. First, some analysts are still bullish on Bitcoin. I wrote that analysts at Standard Chartered see BTC hitting $120,000 by 2024. In a separate report, Tim Draper, a billionaire investor, said that he expects that BTC will surge to over $325k in the coming years.
Second, investors believe that Riot will increase its mining capacity in the coming months. The company recently acquired 33k Bitcoin miners for $163 million. So, how high can RIOT stock rise?
Riot Platforms stock price forecast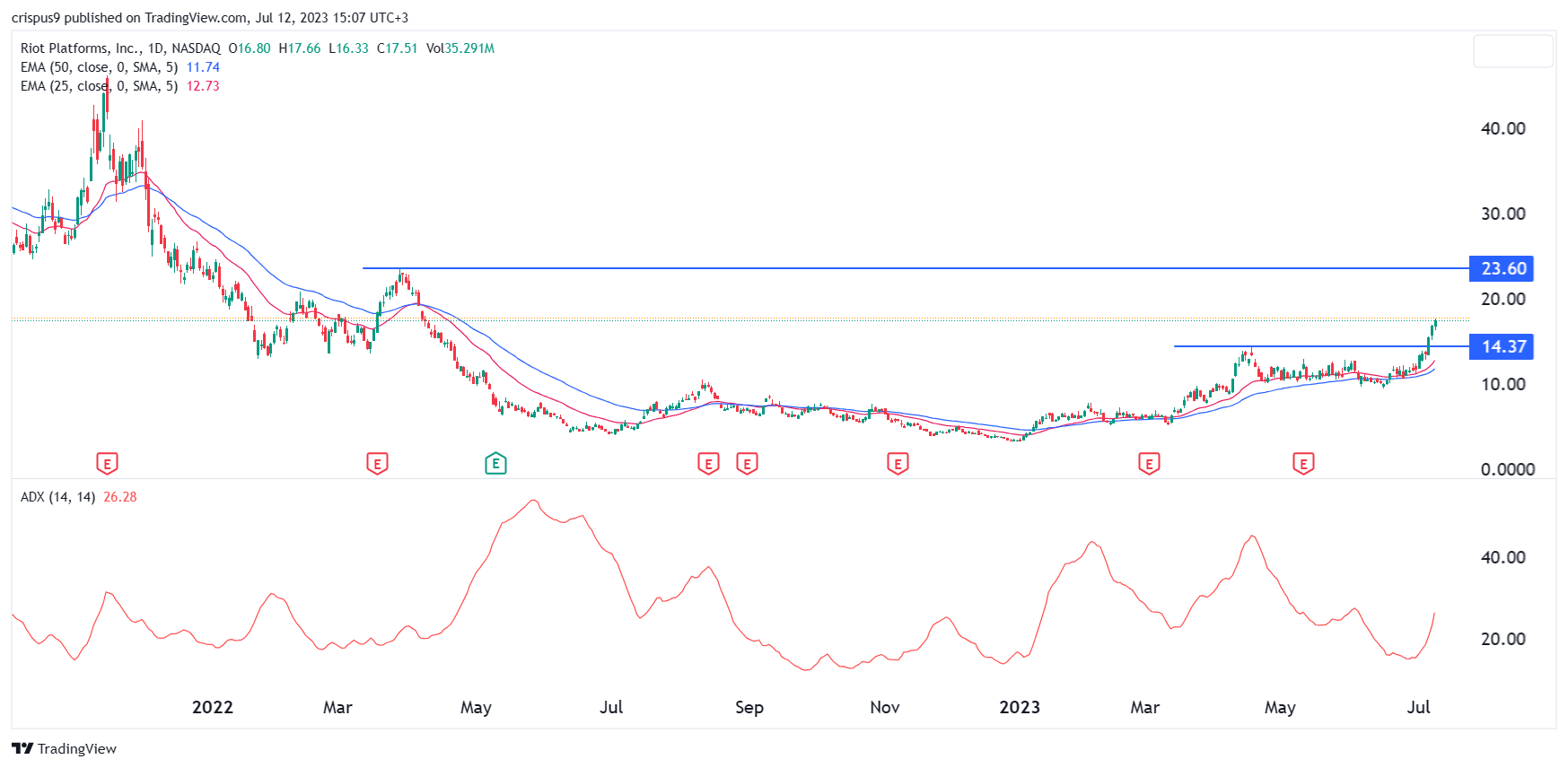 Turning to the daily chart, we see that the RIOT share price has been in a strong bullish trend in the past few months. This rally culminated in the shares jumping above the key resistance level at $14.37, the previous YTD high. 
Riot Platform's share price ha also moved above the 25-day and 50-day moving averages while the Average Directional Index (ADX) has moved to 26.50 An ADX figure above 20 is a sign that the bullish trend will continue. 
Therefore, while a pullback is possible, there is a likelihood that the RIOT share price will continue rising as buyers target the resistance level at $20. A move above $20 will open the possibility of the shares moving to $23.60 (March 22 high).
Leave a comment