Shiba Inu price performance has lagged that of new meme tokens like Keke, Ben, and Pepe. 

The volume of Shiba Inu in the past 24 hours stands at $120M compared to Pepe's $500M.

Many novice crypto traders are buying meme tokens that are clearly scams. 
Shiba inu price has recoiled recently as focus remains on the upcoming alternatives like Keke, Ben, Pepe, and Bambi. SHIB was trading at $0.0000090, which was the lowest level since January 13. It has dropped by more than 42% from the highest point in March.
Meme coin season continues
A major news theme in the cryptocurrency industry is the meme coin season. In the past few days, we have seen many new meme coins move from obscurity to become some of the biggest coins in the industry. 
Shiba Inu, the second-biggest meme coin in the world after Dogecoin, has been abandoned as investors focus on these new tokens. For example, data by CoinMarketCap shows that the volume of Shiba Inu traded in the past 24 hours stands at just $120 million. 
On the other hand, the volume of Pepe traded in the same period stands at about $508 million. This makes it the fourth coin after Bitcoin, Ethereum, and Sui. BEN, another meme coin, has seen the volume jump to $79 million, which is a substantial figure considering that it is a relatively new token. 
Other smaller meme coins like Keke, FourCoin, and Bambi have seen their volumes jump. 
However, the risk is that many crypto traders are buying tokens that are being pumped and dumped. As we wrote here, some whales have started to move their Pepe tokens. Indeed, the prices of most of these new meme coins have dropped sharply from their all-time high. Since they lack a clear utility, I suspect that most of these tokens will drop sharply in the near term. 
Shiba Inu price prediction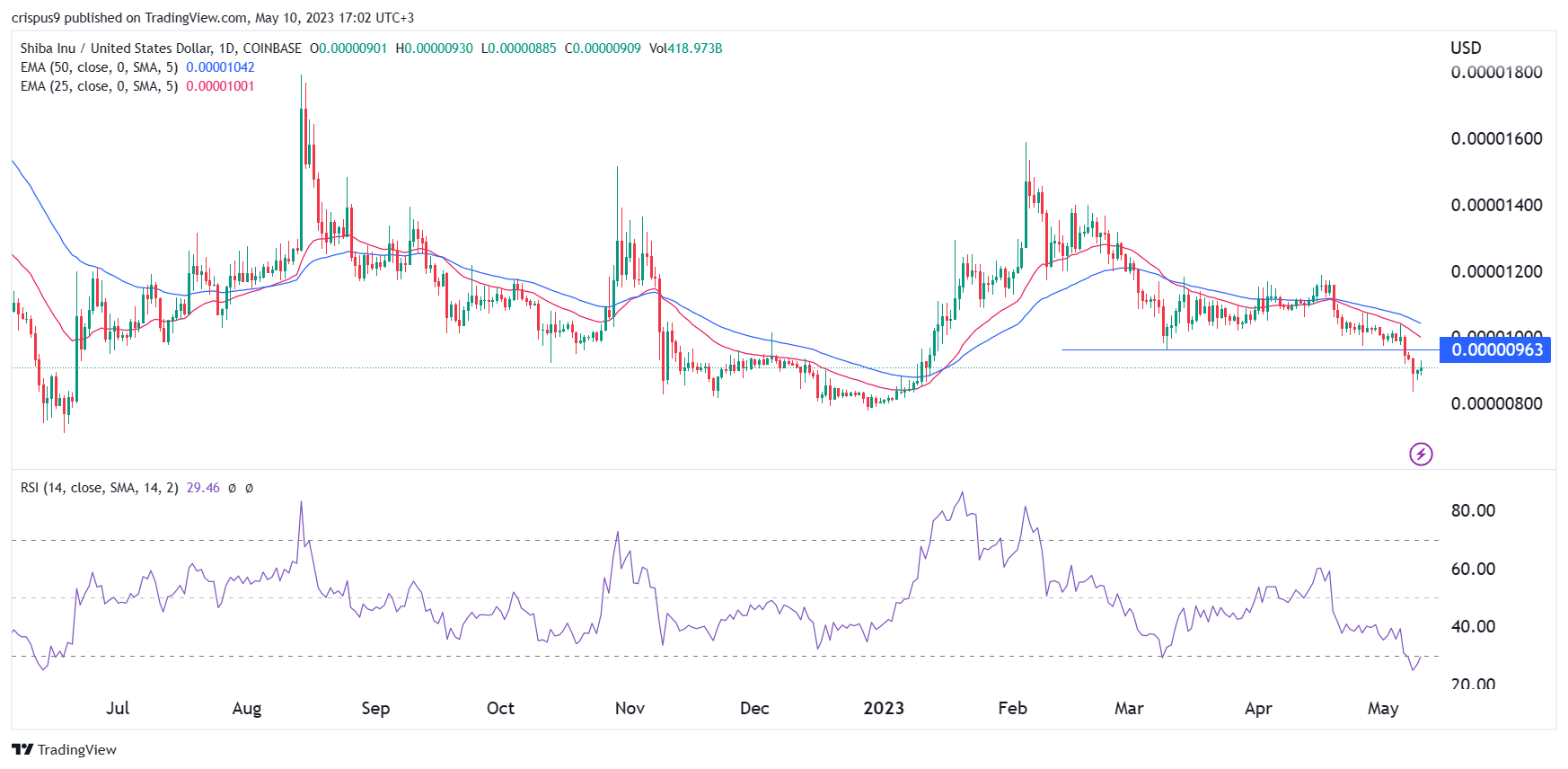 Turning to the daily chart, we see that the SHIB price has been in a strong bearish trend in the past few weeks as attention shifts to the new meme coins. The token managed to move below the key support level at $0.0000096, the lowest level on March 10.
Shiba Inu remains below the 25-day and 50-day moving averages while the Relative Strength Index (RSI) has moved to the oversold level. Therefore, the outlook of the token is still bearish, with the next level to watch being at $0.0000080. A move above the resistance level at $0.000010 will invalidate the bearish view. 
How to buy Shiba Inu
eToro
eToro offers a wide range of cryptos, such as Bitcoin, XRP and others, alongside crypto/fiat and crypto/crypto pairs. eToro users can connect with, learn from, and copy or get copied by other users.
Public
Public is an investing platform that allows you to invest stocks, ETFs, crypto, and alternative assets like fine art and collectibles—all in one place.
Leave a comment